Postanschrift:
Institut für Allgemeine und Vergleichende Literaturwissenschaft
Schellingstr. 3
80799 München
Sprechstunde:
derzeit nach Vereinbarung, Anmeldung bitte unter juliane.prade-weiss@lmu.de
Aktuelles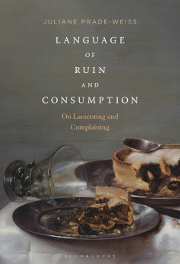 Juliane Prade-Weiss
Language of Ruin and Consumption
On Lamenting and Complaining
London, Oxford: Bloomsbury, 2020
Laments and complaints are among the most ancient poetical forms and ubiquitous in everyday speech. Understanding plaintive language, however, is often prevented by the resentment and fear it evokes: Lamenting and complaining seems pointless, irreconcilable, and destructive. Language of Ruin and Consumption: On Lamenting and Complaining examines Freud's approaches to lamenting and complaining, the heart of psychoanalytic therapy and theory, and takes them as guideline for reading key works of the modern canon. The re-negotiation of older – ritual, dramatic, and juridical – forms in Rilke, Wittgenstein, Scholem, Benjamin, and Kafka puts plaintive language in the center of modern individuality and expounds a fundamental dimension of language neglected in theory: Reciprocity is at issue in plaintive language. Complaining and lamenting language is expounded as a crucial medium of psychic, social, and political (re-)formation due to its characteristic of stirring up, rather than settling, issues.
Objective of Language of Ruin and Consumption: On Lamenting and Complaining is to analyze a fundamental structure of language that dominates the discourses of Modern individuality and politics, but is neglected in theoretical approaches to language: Speech is not only by someone and on something, but also addressed to someone. Crucial to therapy, this axiom of psychoanalysis is no less decisive, and everything but commonplace, in understanding poetical texts and political discourse.